(Seeking Funding) - Director/Writer/Producer
"MILLIES" - a feature film in development
A feature film project in development by Writer/Director Lorre Fritchy and Producer Stephanie Higgins. MILLIES follows a troubled group of mill workers who return from 1912 to guide a modern-day mill owner who learns *her* future is affecting *their* past.
Visit the film's official web site at www.MilliesMovie.com.
Director/Camera/Editor/Producer
Fitivities™ - The Game That Moves You - Board Game Music Video
Fitivities™ is a pioneering, physical activity board game that is taking the game world by storm. This unique twist on Game Night got another boost when America's Got Talent contestant Chris La Vrar created a Fitivities™ Rap, "No Ordinary Game." This bonus mix music video unites both the original rap and the original game that inspired it. I created several fun videos related to Fitivities™, all of which are viewable on MasterPeace's YouTube Channel or you may check out Fitivities for yourself.
Director/Camera/Editor/Producer
Bread & Roses Centennial Festival - Official Video
The Lawrence Textile Strike of 1912 -- known better as the Bread & Roses Strike -- celebrated its 2012 centennial with a Labor Day festival of music, food, culture and activism. This official mini-documentary captured the spirit of the festival and the world-renowned labor event that inspired it.
The Bread & Roses Strike of 1912 also partly-inspired my indie-film-in-development, MILLIES, which follows a troubled group of mill workers who return from the Strike to guide a modern-day mill owner who learns *her* future is affecting *their* past. Visit the film's official web site at www.MilliesMovie.com and see how you can help us make this movie a reality. We've got the Roses, we just need the Bread.
Director/Camera/Editor/Producer
North Parish - Unitarian Universalist Church
A quintessential New England parish in historic North Andover's old town center, North Parish wanted to convey its message of inclusion and sense of community practiced within its fabulously-photogenic meetinghouse (complete with a Paul Revere bell in its spire!). Their church is centuries old, their attitudes are not. Visit the North Parish web site to learn more.
Director/Camera/Editor/Producer/Voiceover
Skillastics® - Series of Physical Education Games
Skillastics® is an award-winning series of non-competitive physical activity games in a number of categories from Basketball and Tennis to Volleyball, Soccer and more. It gets kids of all abilities playing at their own levels, and puts the Fun in Fundamentals. Multiple videos for each game in the Skillastics® series as well as additional aspects of Skillastics®, are available on MasterPeace's YouTube Channel or you may take a look at Skillastics® directly.
(In Production) - Director/Writer/Producer
"VISITING CAMDEN" - documentary
Part travelogue, part kitschy Americana, VISITING CAMDEN follows a family whose son is named Camden, as they visit cities and towns named Camden in the United States and abroad. It is a multi-year film project that will watch this 5-year-old grow up as he visits his namesake towns, whenever and however those travels occur over time. The film will interview locals, capturing charms and claims to fame for each Camden, going from small-town to small-town. By the end of the journey, the film should be a quirky little slice of life that speaks to hometown pride, family, coming of age, travel and discovery.
Director/Producer/Editor/Camera
Andover School of Montessori - promotional video
An international VIDEOGRAPHER AWARDS - AWARD OF DISTINCTION WINNER
This renowned PreK-8th Grade school is a true representation of the innovative yet intuitive educational methods created by pioneer scientist and visionary, Dr. Maria Montessori, over a century ago in Rome. A non-profit, ASM required a video for fundraising, prospective families, and generally getting the word out in the community. After bringing down the house during its debut at the school's 35th anniversary auction fundraising event, the video continues to be a most effective marketing piece doing everything ASM needed it to do.
"Andover School of Montessori wanted a video that told the history of our school, but also portrayed the school as it is today. We knew Lorre's approach to telling a story was what we needed. She knew instinctively what had to be done and set about to make it happen. Lorre captured the essence of ASM, the feel and the community. Children, staff and parents opened up to her and shared their thoughts freely. We premiered the video at our auction and the place went wild. At last, we have a powerful video we are proud to show our community, our donors and prospective families. The video blew us away. The Videographers Award of Distinction our video received makes us even more grateful to MasterPeace Productions for the great work that they do. MasterPeace Productions made our video dream become a reality."
~Peg Roberts, Head of School, Andover School of Montessori
Director/Producer/Editor/Camera
Trust & Believe: A Song For Haiti - charity music video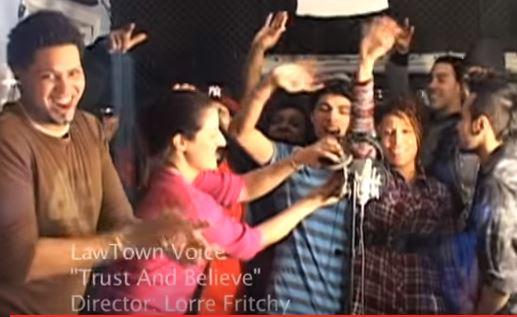 Trust And Believe is the charity single by LawTown Voice, a group of Lawrence, Massachusetts singers and rappers uniting to help Haiti. The brainchild of dance music artist Bylli Crayone, the song is available for purchase on iTunes, with all proceeds going to Haiti relief efforts via the Massachusetts non-profit foundation Committee to Help Haiti. The recording session was held on one marathon day in early 2010. It was a challenging shooting session with one person and one camera, but the resulting We Are The World-inspired music video directed by Lorre Fritchy, came together just as the singers did. A catchy tune, and a worthy cause.
Director/Producer/Editor/Camera
Greater Hartford Legal Aid (GHLA) - promotional video
"As part of our 50th anniversary celebration, we wanted to tell the story of our history, the compelling needs of our clients, and the dedication and effectiveness of our current work. We also wanted that story to be told in less than 8 minutes and we needed it to be done quickly. We weren't sure it was possible, until we met with Lorre Fritchy. Lorre listened carefully and immediately understood what we were trying to do. Her commitment and vision came through at every stage of the process from the early filming to the final production. She offered important ideas and suggestions for content and approach, met deadlines, and paid attention to detail. MasterPeace Productions delivered exactly what we wanted: a concise, powerful video illustrating our mission of justice. Lorre's professional and creative approach made it possible."
~Attorney Jill Davies, Deputy Director, GHLA
Director/Producer/Editor/Camera
Connecticut Women's Education and Legal Fund (CWEALF) - promotional video
When the Connecticut Women's Education and Legal Fund (CWEALF) contacted me about making a video just a few weeks before their annual gala, I admit to wondering if what they wanted to accomplish was logistically possible. But CWEALF worked tirelessly with me to pull all the necessary pieces together, and the result moved viewers to tears and donors to their checkbooks. CWEALF is a special group of can-doers dedicated to empowering those in dire straits. Another fulfilling project in the quest to work with people who make a positive difference in the world.
"All of us at CWEALF want to thank you for producing such an amazing video for our organization. You managed to convey the dedication of every staff member and the impact of our work on the larger community. We will be proud to show the video not only to the audience at our annual events but to donors, community leaders and to those in need of our services. The caliber of your work definitely commands the value you placed on the video. It has absolutely captured the soul of what we do."
~Dr. Alice Pritchard, Executive Director, CWEALF
Executive Producer/Camera
"THE GAY MARRIAGE THING" - documentary
Finally, the one documentary on this topic that families can watch together. This is the film to open a dialogue between Americans on differing sides of this sensitive issue.
Whatever people think about same-sex marriage, people are thinking about it. And talking about it. And battling for it. And opposing it. On November 18, 2003, the Supreme Judicial Court (SJC) of Massachusetts ruled that it was unconstitutional to ban any same-gender couple from civil Marriage. They gave the state six months to prepare town clerks for issuing Marriage licenses to gay and lesbian citizens. And on May 17, 2004, Massachusetts became the first state in the country to issue Marriage licenses to same-gender couples. From the anguished pleas of representatives at the Constitutional Convention, to the challenges facing church leaders, to the protesters busing in from out-of-state, there is plenty of public opinion to be had on the grounds of the oldest building on Beacon Hill. THE GAY MARRIAGE THING shows the human beings behind the picket signs and the stories behind the struggles.
I am serving many roles in this compelling documentary production focusing on the politics, the piety, and the people engaged in the same-sex marriage debate in Massachusetts. Most officially as an Executive Producer of the film, along with Director Stephanie Higgins. We want to do something different from any other documentary on this topic -- we want families to be able to watch this together and talk about it. We want people on all sides of the issue to see this program and recognize it as the only one that doesn't condescend but instead, focuses on the humanity shared by all. We want to tell stories that matter; this one definitely qualifies.
"Lorre and MasterPeace Productions were an invaluable addition to THE GAY MARRIAGE THING documentary team. Both Lorre's business sense and her passion for storytelling were the perfect combination for her role as Executive Producer. Her broad filmmaking experience aided us in telling an incredible story and successfully signing with our distributor within a year of completing our film. The experience was amazing.
~Stephanie Higgins, Director
(THE GAY MARRIAGE THING), SassyMedia
Director/Producer/Editor/Camera
Community Day Care/The Community Group - promotional video
Being a creative type who repeatedly changes hats for different projects, I could relate to the dilemma Community Day Care, Inc. had in trying to simplify the multitude of sophisticated programs they operate. From infant care to preschool to school-age to parent education to teen mom, the programs serve many thousands of people in the region, and required a complex, nine-location shoot to cover the basics in a 15-minute video.
The target audience was equally split; the video needed to speak to potential donors, new personnel, parents, board members, and current staff, as a motivational tool. The clarity and impact of the end result gave Community Day Care the satisfaction of seeing the branches of their organization on one simple and effective tree.
"Lorre has a unique capability to capture the essence of a program and a group of people without taking hours of their time to develop her message. She brings an artist's sensitivity to her work, incredible insight and the creative capacity to understand her subjects and tell their story."
~Sheila Balboni, Executive Director, The Community Group
Director/Producer/Editor/Camera
Adelante Youth Center: Moving Forward - promotional video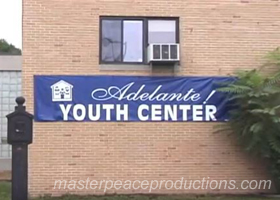 A unique after-school program in a predominantly Latino community: teens earn scholarship money to attend private high schools by tutoring younger children in English and other subjects. Hugely successful, and sadly but typically underfunded, Adelante! ("moving forward" in Spanish) engaged Lorre to create a straightforward and heartwarming, 8-minute fundraising video. Lorre jumped in to work with this local organization and eventually premiered the video to a pindrop-silent crowd at a lucrative fundraising event.
"Lorre did an amazing job of portraying the emotional impact of our work. Initially, I was anxious about giving up control over the content of the video, but Lorre assured me that she understood what it was that I wanted. I trusted Lorre and she delivered. Lorre has a true talent for presenting the essential information while bringing out a full range of emotions from the audience."
~Chris Coleman-Plourde, Executive Director, Adelante!
Director/Producer/Editor/Camera
"SANDY 'SPIN' SLADE: BEYOND BASKETBALL" - documentary
AWARD OF MERIT WINNER - Academy of Video Arts & Sciences My family-friendly documentary following world-renowned basketball entertainer and speaker, Sandy 'Spin' Slade. Celebrated as one of the best basketball handlers in the world, Slade's greater gift is her electrifying connection with people. Using basketball to relate personal stories of doubt, determination and triumph, Slade inspires millions at halftimes, assemblies and special events. Beyond Basketball reveals the unique profession and undeniable aura of an individual who stuns with her skill and motivates with her meaning. Her language is basketball, but her message is universal.
Read all about this award-winning documentary here
Director/Producer/Editor/Camera
Tributes, Photo/Music Montages and Event Videos
This is one example of MasterPeace's numerous tribute videos. The purpose here was an awards gala screening, with a video honoring the award recipient.
All videos available on Lorre Fritchy's YouTube channel at:
http://www.youtube.com/lfritchy