MasterPeace Products and Films Available on Video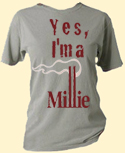 Millies T-Shirt - Official tee from the feature film MILLIES currently in development, written and directed by Lorre Fritchy, produced by Stephanie Higgins. Available in sandstone (shown), dijon, and washed white, adult S-XXL.
Help us make the movie - buy a tee!

The Gay Marriage Thing The politics, the piety, and the people embroiled in the same-sex marriage debate in Massachusetts. The film was directed by Stephanie Higgins and produced by Lorre Fritchy. The film is currently out of print, and may be distributed via streaming in the future.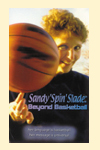 Sandy Spin Slade: Beyond Basketball - (DVD Version) Her language is basketball, her message is universal. For details on this inspiring, family-friendly video loved by audiences nationwide, click here. Or buy the award-winning film on DVD here.